Autumn on the Hauraki Rail Trail
WAIHI BICYCLE HIRE & TOURS
Explore our region's gold mining heritage by bike
Visit the modern mine, bike through to Waikino to the Victoria Battery ruins, then on to the magnificent Karangahake Gorge. The Waihi region is a great place to experience the real New Zealand.
We're based at the Waihi isite, and with bike hire, shuttle services, and tours, Waihi Bicycle Hire has everything you need to discover and experience the Hauraki Rail Trail, Waihi, and Waihi Beach.
OUR BIKES
We have a modern fleet of good quality, and well maintained comfort and e-bikes, in sizes and styles to suit everyone. We supply a helmet and a lock for your safety and security, and they can come with carriers and bags for your gear.
SHUTTLE SERVICE
Whether you decide to ride the popular Hauraki Rail Trail from Waihi to the spectacular Karangahake Gorge and beyond, or take a leisurely cruise around the Martha Gold Mine Pit Rim Trail, or even explore the Old Reservoir Track at the Beach and ride to Anzac Bay with your family - we can make your cycling logistics easy. With our van and bike trailer we can pick your group up and/or drop you off from anywhere you'd like to start or finish.
LOCAL KNOWLEDGE
We're locally owned, and operate from the Waihi isite and Gold Discovery Centre in Waihi. This means we're ideally located for easy access to the Martha Gold Mine Pit Rim Trail and the Hauraki Rail Trail, plus all the rides at Waihi Beach. And we have all the local knowledge you'll need to make the most of your local cycling experience.
GROUPS AND MULTI-DAY TRIP PLANNING
As well as catering for individuals and families, we also specialise in small and large groups.
We're experts in arranging multi-day end-to-end accommodation and shuttle packages. We can customise a cycling adventure to suit any group's needs. Ask us about our corporate group cycling discovery day package.
WAIHI'S GOLD MINE TOURS
While you can't cycle inside the fence of the mighty Martha Gold Mine, we can take you on an exclusive, fully guided tour. Find out more about WAIHI GOLD MINE TOURS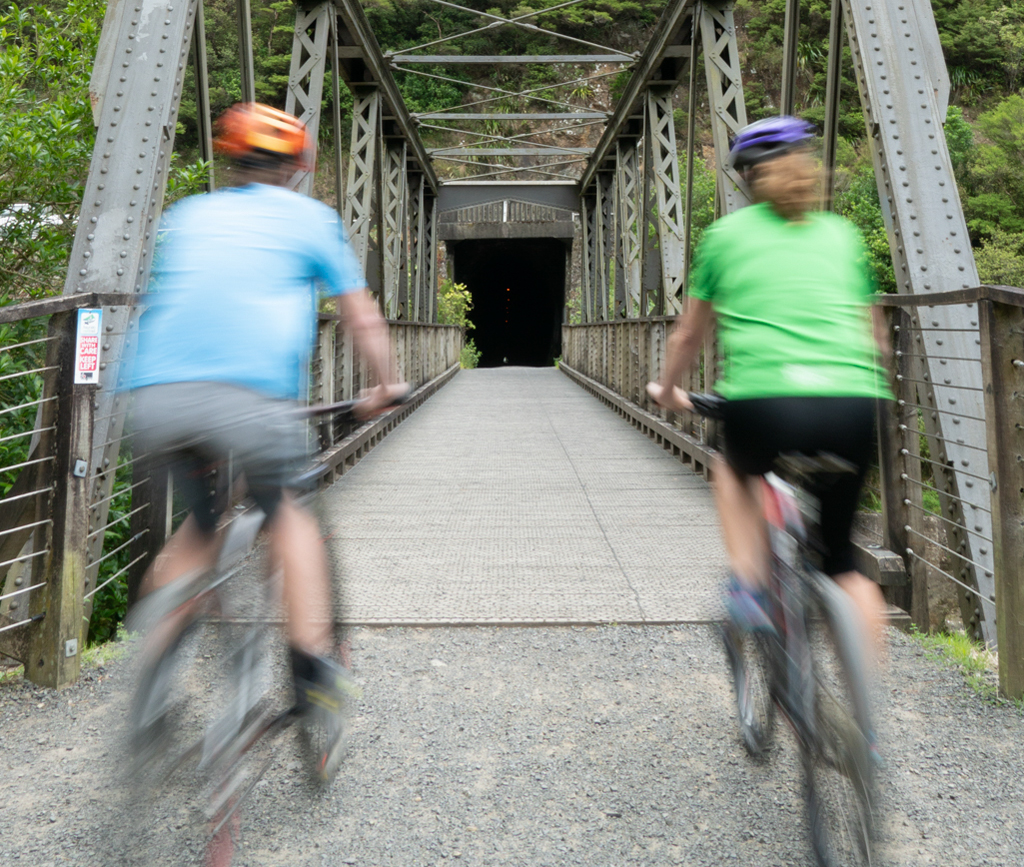 ---
You'll find us at the top of Seddon Street, Waihi in the isite/Gold Discovery Centre.
We're right across the road from the iconic Cornish Pumphouse and only meters from the Martha Gold Mine Pit Rim Walkway, a rolling trail with spectacular views into the open pit of the operating mine.
HERITAGE RAILWAY LINK
We're also just 1.5 km from the Waihi Train Station where Goldfields Heritage Railway can load your bikes onto an open wagon so you can take a historic scenic train trip down to the Waikino Station, and start your ride on the Hauraki Rail Trail.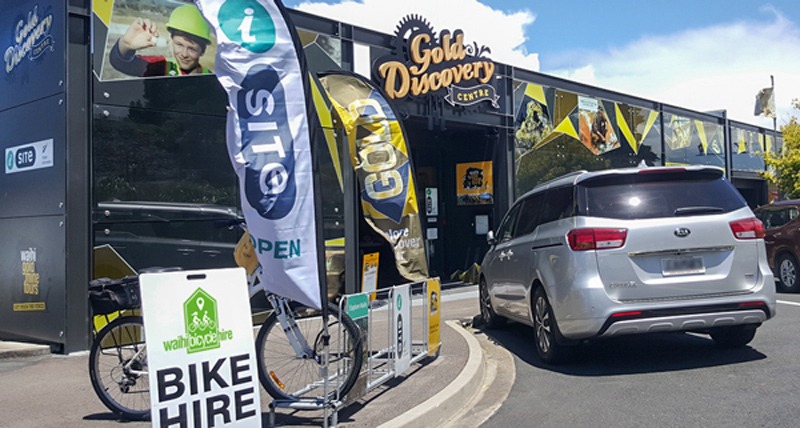 ---
WAIHI
You'll find Waihi Bicycle Hire inside the Waihi i-SITE & Gold Discovery Centre at 126 Seddon Street, across the road from Waihi's iconic Cornish Pumphouse.